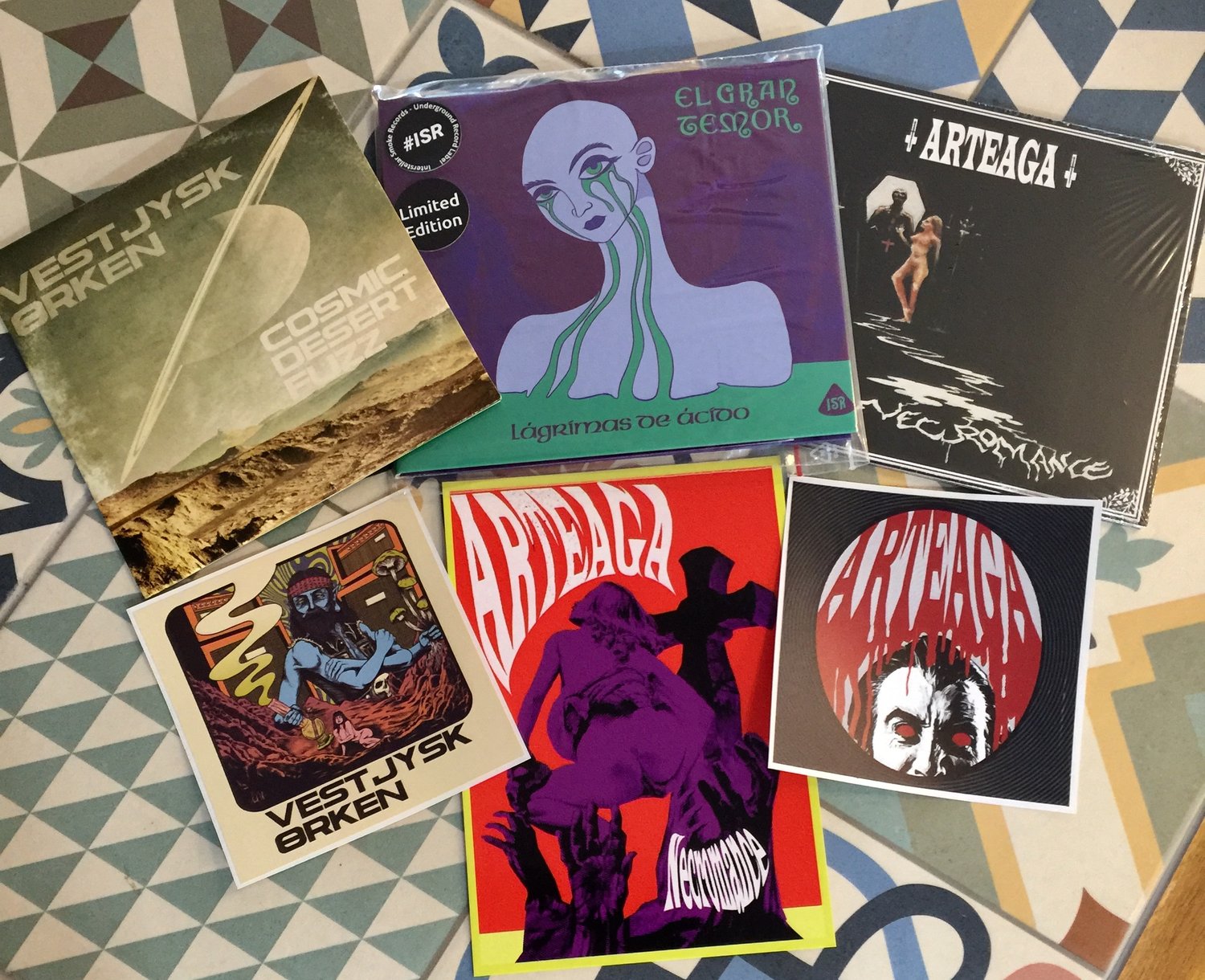 'BagOfDrugs' 3x CD: El Gran Tamor/Arteaga/Vestjysk Orken
'BagOfDrugs' Package with all CD Edition:
1. El Gran Temor since "Jugando Con La Muerte"
Tracklist:
1. Años Sabáticos 03:50
2. Lágrimas De Ácido 03:52
3. La Vida es un Viaje 06:40
4. La Iglesia que Dios Abandonó 07:05
5. Un Nuevo Comienzo 02:52
6. Advertencia del Destino 04:50
7. 2019 05:20
8. Viaje Místico 04:44
39:11 minutes of Psychodelic Stoner Doom Trip.
2. ARTEAGA ,Vol.3 Necromance'
Tracklist:
1. Espejo Roto
2. Marcela
3. Necrodance
4. Necromance
5. Verano Rojo
6. Ritual Eléctrico
7. Daga*
8. Cuicodelia*
9. Huyro*
55 minutes of Psychodelic Stoner Doom Trip.
* Bonus track
3. Vestjysk Orken 'Cosmic Desert Fuzz'
Tracklist:
1. Dune
2. ...Of The Dead
3. Solaris
35:07 minutes of Fuzz'Attack Psych Trip
ALL THREE TITLES ON STOCK.
DISCLAIMER:
INTERSTELLAR SMOKE RECORDS SHIPS EXCLUSIVELY WITH VINYL OUTSIDE OF THE LP JACKET TO PREVENT SEAM SPLITS OR ANY OTHER KIND OF INTERNAL DAMAGE DURING TRANSIT TO MAKE SURE YOUR ORDER ARRIVES SAFELY. ALL ORDERS ARE SECURELY PACKED, HOWEVER, ISR CANNOT BE HELD ACCOUNTABLE FOR ANY POSSIBLE BRUTE TREATMENT THE PACKAGE MAY ENDURE DURING TRANSPORT TO YOU. WE DO DON'T ISSUE REFUNDS OR SEND REPLACEMENT COPIES FOR MINOR ISSUES SUCH AS BEND CORNERS OR BACKGROUND NOISE OR THE OCCASIONAL CRACKLE IN THE SOUND. PLEASE, BE ADVISED THAT WE EXAMINE EACH ITEM CAREFULLY AND THEY ARE IN PRISTINE VISUAL CONDITION UPON DEPARTURE FROM OUR HEADQUATERS.
GDPR NOTICE - BY PLACING AN ORDER IN THE INTERSTELLAR SMOKE RECORDS RECORDS BIGCARTEL STORE, YOU AUTOMATICALLY ACCEPT BEING ADDED TO OUR NEWSLETTER MAILING LIST, WHERE WE REGULARLY WILL SEND OUT EMAILS DIRECTLY RELATED TO THE LABEL'S ACTIVITIES SUCH AS INFO ON PRE-ORDERS AND UPCOMING RELEASES. YOUR DATA IS STORED SECURELY BY US AND ARE NOT SHARED OR DISTRIBUTED TO THIRD PARTIES, NEITHER WILL IT BE USED FOR OTHER COMMERCIAL USE OR UNRELATED ADVERTISING. WITH EACH NEWSLETTER THERE IS AN OPT-OUT UNSUBSCRIBE OPTION THAT CAN BE USED AT ANY TIME.